envelopelearning@mainstreamcorporation.com phone303-912-4833
SOLITEX Mento Plus-- Water Resistant Barrier, 38 perms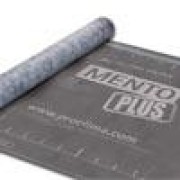 Dimensions:
61.00in x 8.00in x 8.00in
SOLITEX Mento Plus--
Reinforced, airtight, 4-ply, vapor open, weather resistive barrier and roof underlayment. This highly durable membrane is designed to replacing sheathing, and can be used as netting for dense-packing insulation. Great protection for vented facades and roofs under construction, excellent durability for prefab panels
Advantages
Actively vapor open, monolithic layer of TEEE film is also extremely waterproof and airtight
Can be used without exterior sheathing in vented rainscreens and roofs
Very robust, used as temporary roofing and wall protection when taped with TESCON VANA
No leaks because of tenting effect or wood tannins, unlike microporous membranes –

The MENTO difference

10 year comprehensive

Pro Clima warranty
Dimensions: 59" x 164' (1.50 x 50 m)
Roll area: 807 SF (75 m2)
Properties:
Material: non-porous TEEE functional membrane
Durability: Covered by two PP protection fleeces and includes reinforcement grid
Water column: Resist over 8' (2.5 m) of water column to ensure protection from the elements
Perm Rating: 38 perms (Sd-value 0.05 m) for enhanced outward drying potential
Fire rating: Class A material per ASTM E84 test (0 FS, 85 SDI)
UV/weather Resistance: Temporary roofing/weatherproofing of façade and roof for up to 4 months - certified by ZVDH (German roofing assoc)
Artificial aging: Pass long-term testing per DIN EN 1297 / DIN EN 1296
There are no reviews for this product.