envelopelearning@mainstreamcorporation.com phone303-912-4833
Zehnder ComfoAir 70 Ventilation Unit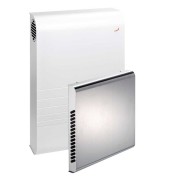 Dimensions:
39.00in x 19.00in x 34.00in
Designed for excellent efficiency and installation in single or two-room partments, the CA 70 is easy to install.
With capacities of 9 - 15 - 24 - 38 cfm, the CA 70 has been certified at 85% efficiency by the Passive House Institute.
Features include frost protection control down to 10.5 deg F.
Dimensions: Height: 26"
Width: 17.3"
Depth: 5.7"
Weight: 53 pounds (24kg)
Sold with installation tube.
There are no reviews for this product.