envelopelearning@mainstreamcorporation.com phone303-912-4833
ComfoAir 200 Ventilation Unit with pre-heater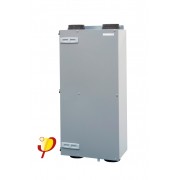 Product Code:
9357-01 or 9364-01 (left or right)
Dimensions:
13.00in x 22.00in x 44.00in
Designed for excellent efficiency and installation in smaller homes or apartments (~2 bedrooms, 2 baths), the CA 200 ERV is suitable for wall or ceiling mount.
With a maximum capacity of 118 cfm, the CA 200 has been certified at 84% efficiency by the Passive House Institute.
Features include ECM motors for energy efficiency and ease of balancing, summer bypass cooling, frost protection mode, and resistance pre-heater. Additional options and accessories also available.
Benefits:
Comfort ventilation up to 118 cfm

Heat recovery with a heat recovery efficiency of up to 84% according to PHI

Low power consumption thanks to EC direct current motors

Automatic 100% summer bypass

Infinitely variable frost protection function: efficient even at low temperatures

Quick, safe installation and servicing

Simple operationIntegrated preheater

Digital control unit

CO2 control (optional)

With weekly timer as standard

Chimney sweep control

HVI Listed

The CA 200 is a Certified Passive House Component
Dimensions:Height: 47.2"
Width: 21"
Depth: 12.6"
Weight: 66.2 pounds (30kg)
There are no reviews for this product.