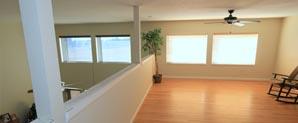 Designed in 2010, the Passivista has emerged as a true proof of concept 3,600 square-foot residential house in Broomfield, Colorado. Completed $99/SQFT.
The Passivista: This Affordable Proof of Concept REALLY Performs!!
Built at $97 / total square-foot, or $150 / finished square-foot.
2013 Annual Summary
Gas = $347.10 for 303 Therms or 30,300 kBTU
Electricity = $755.23 for 5,046 kWh
Water = $283.20 for 57,000 TGal
"I feel spoiled because the temperature never goes below 68 deg F!"
~ Harlene Beckloff
The 36kBTU gas stove is needed less than 2 hours a day during winter months.
This project is showcased on the EPA Region 8 High Performance Buildings website.